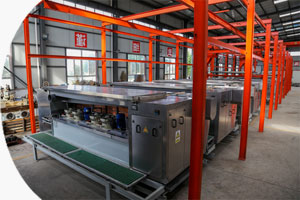 Automatic electroplating production line is developed on the rich experiences of designers and numerical control technic. The separated tanks are controlled by PLC system and with the text display system; all tanks are contacted together and controlled with the console touch screen operation system. It is high working efficient,but need fewer operators a
nd smaller occupy space.
CHARACTERS:
  (1).High automatization,cylinder is automaticly transferred by the travelling crane;fully automatic load/unload cylinder system,controlled by the general console.
  (2).Chrome polisher also merged into the auto plating line
  (3).Less sealing tache,simply cylinder loading system
  (4).1 worker can control the whole plating line; the producing efficiency improved more than 50%.
Machine capability:
  Capacity of Cylinder Length: 300-4000(mm)
  Capacity of Cylinder Diameter: 90-800(mm)